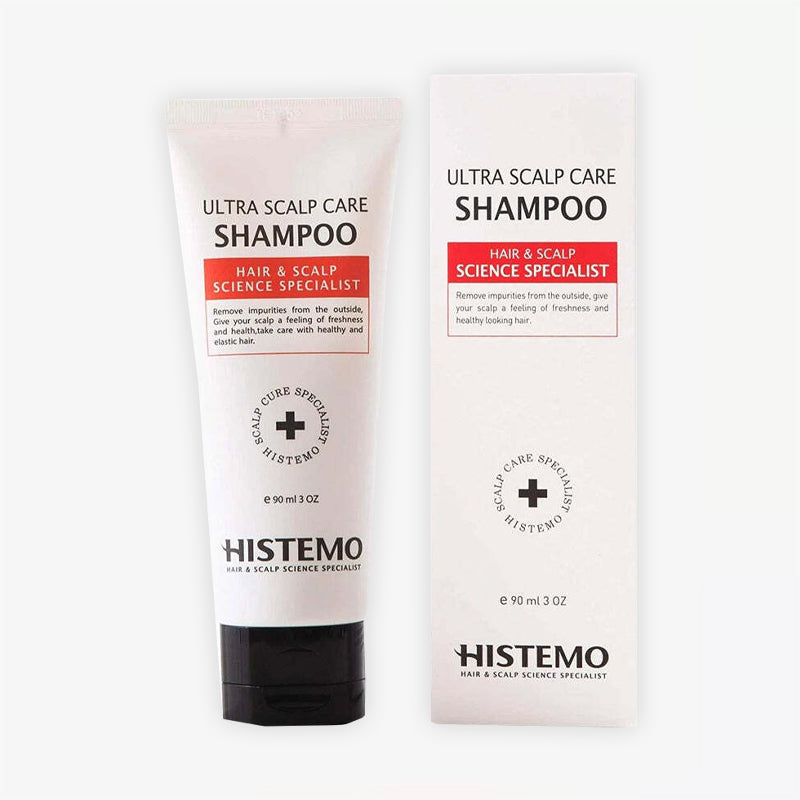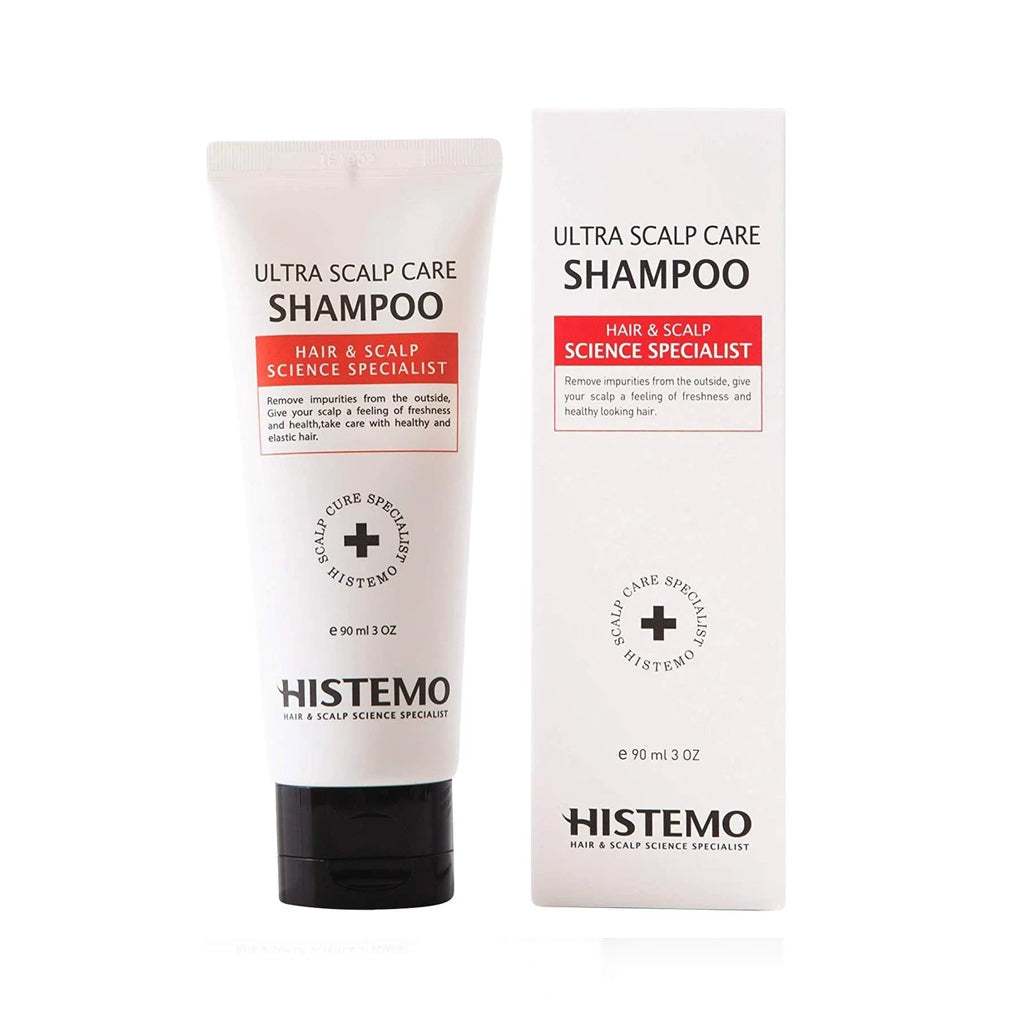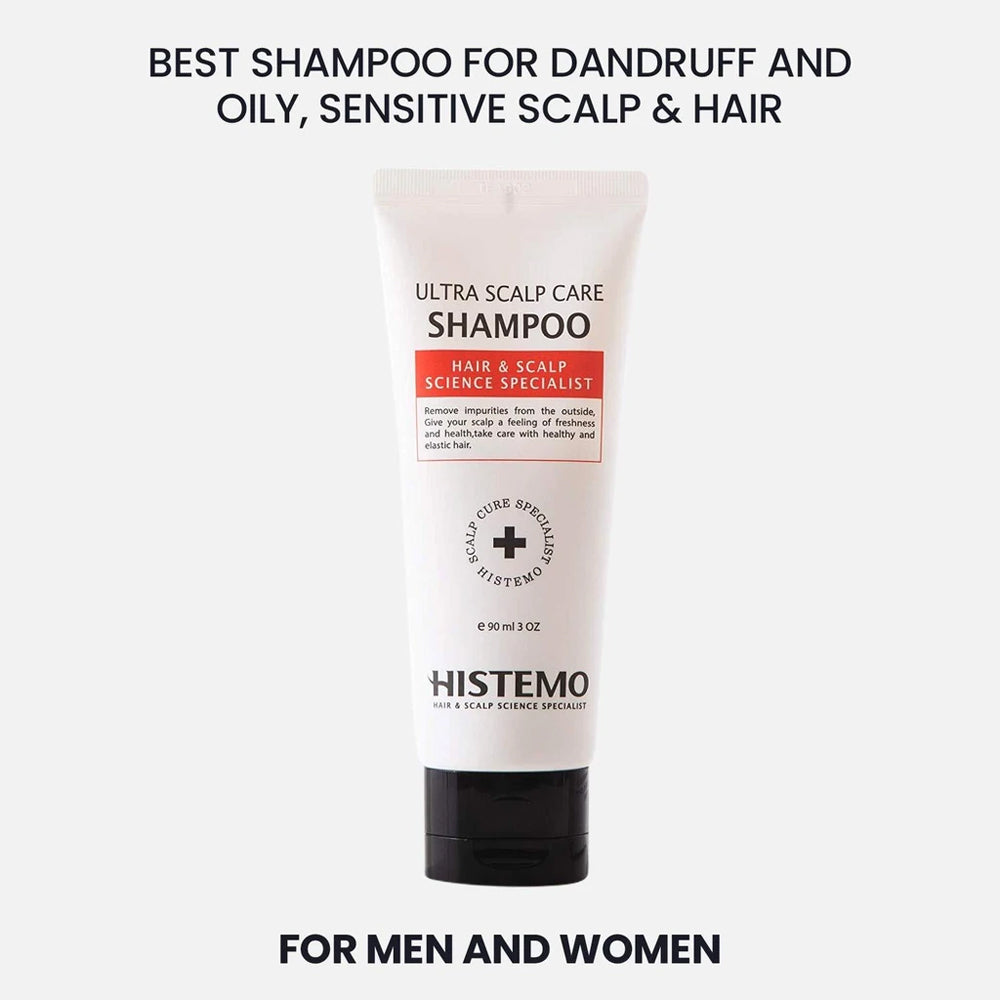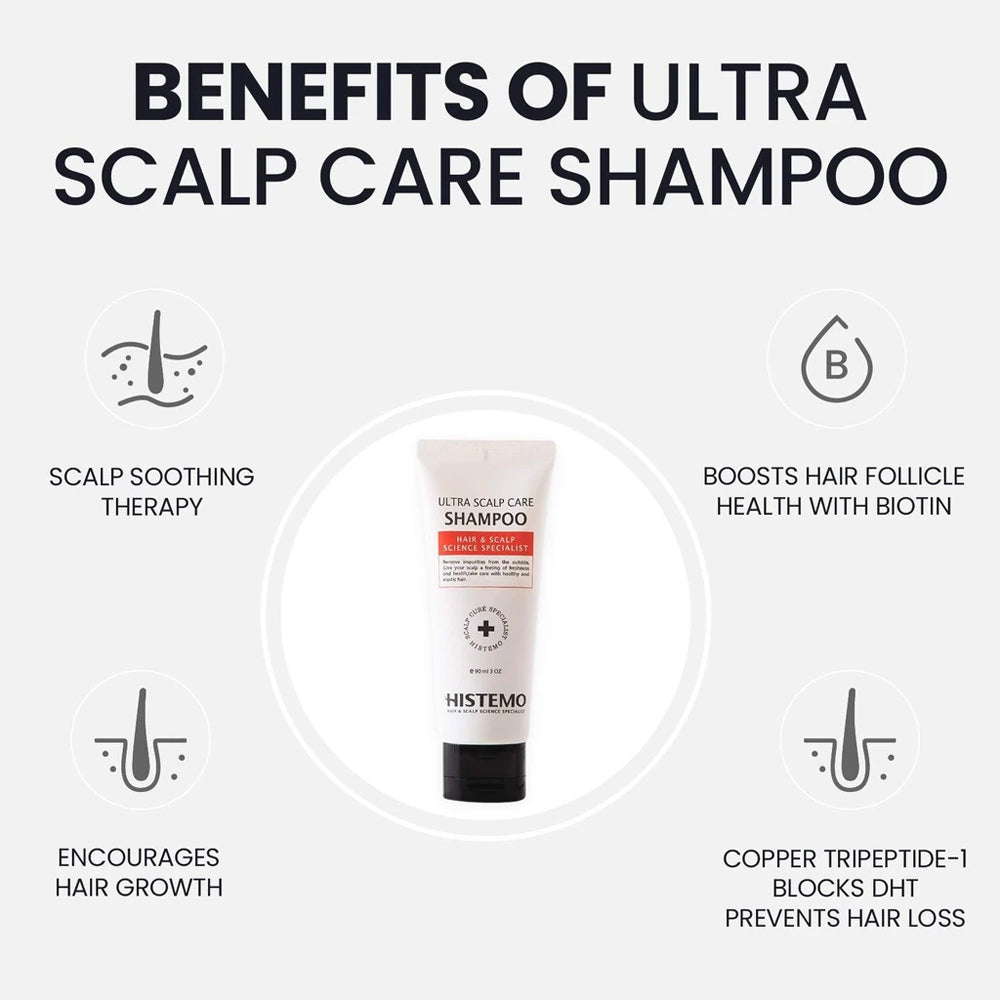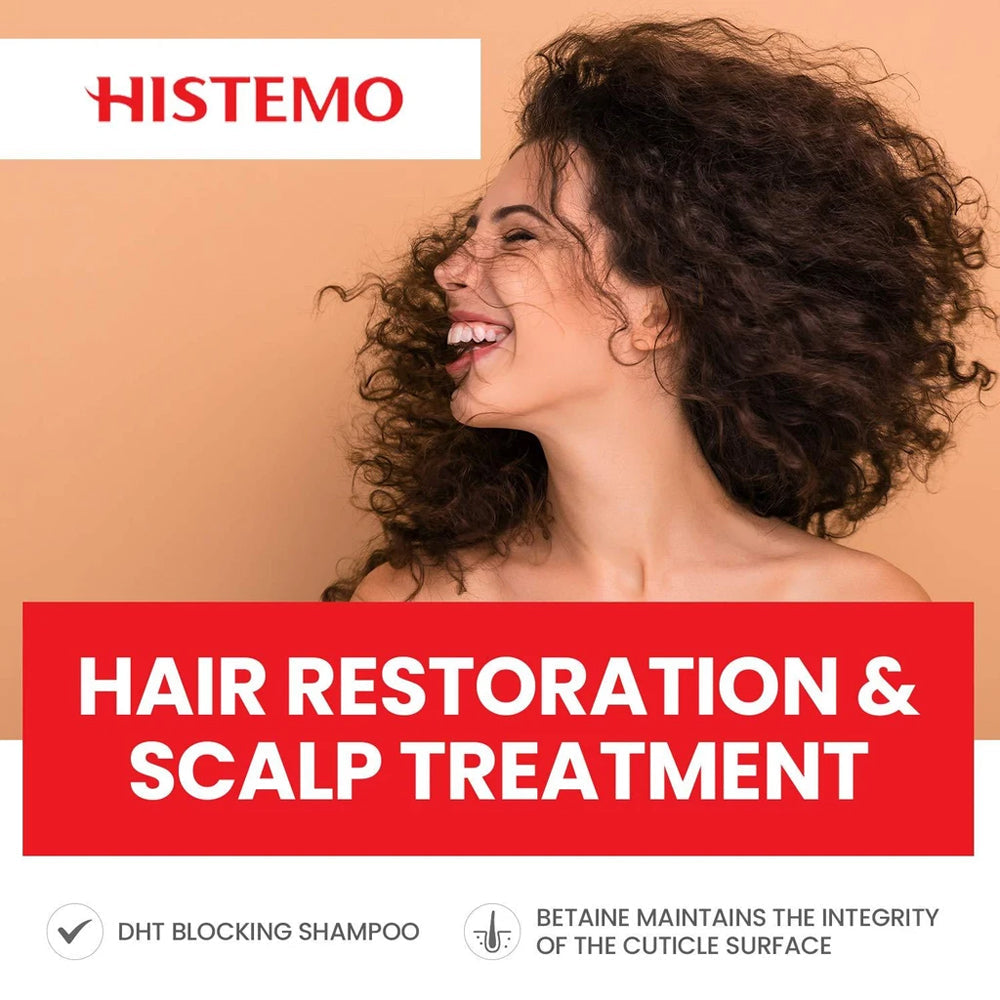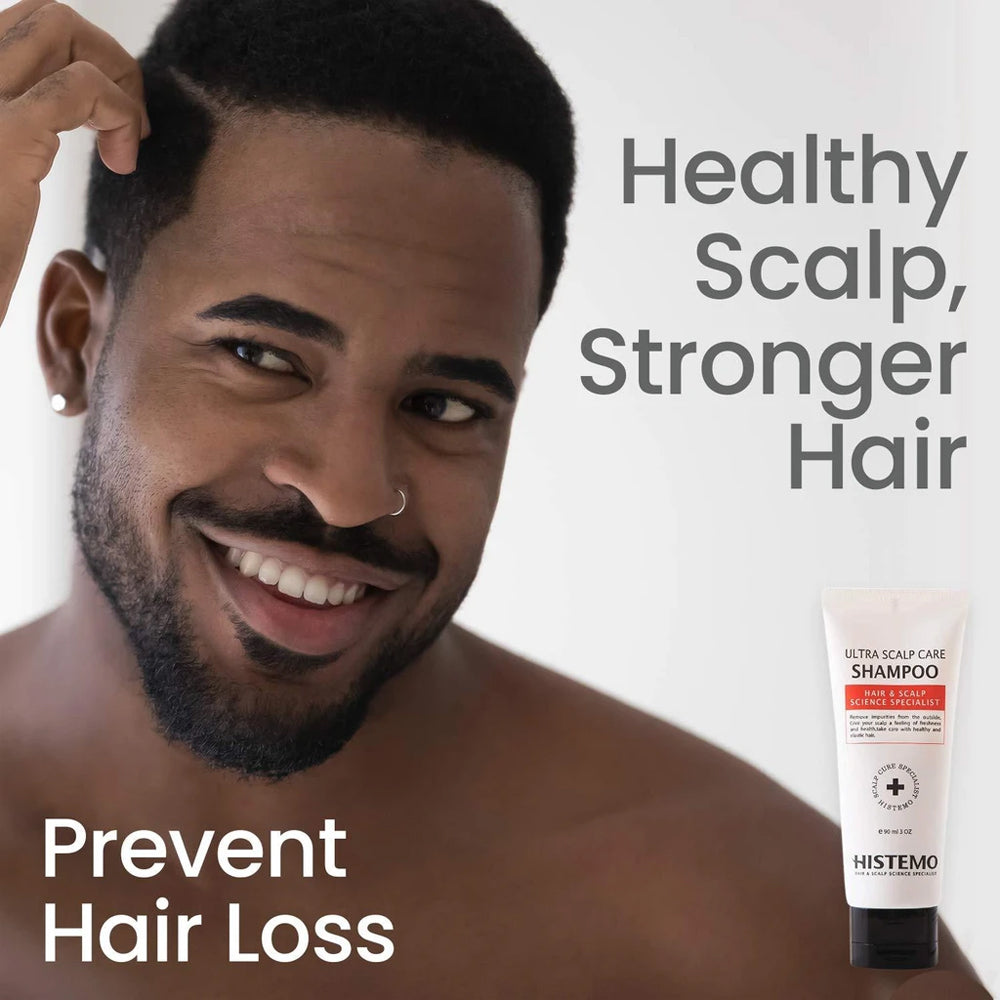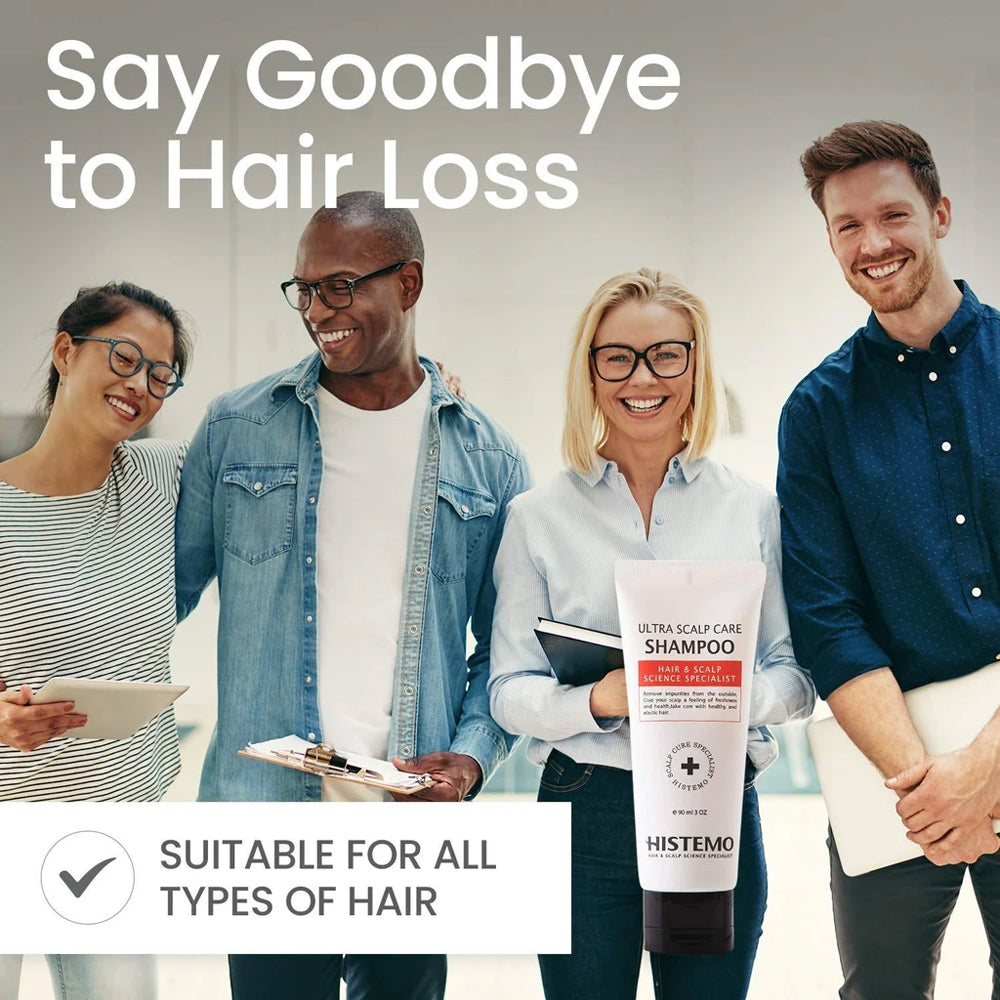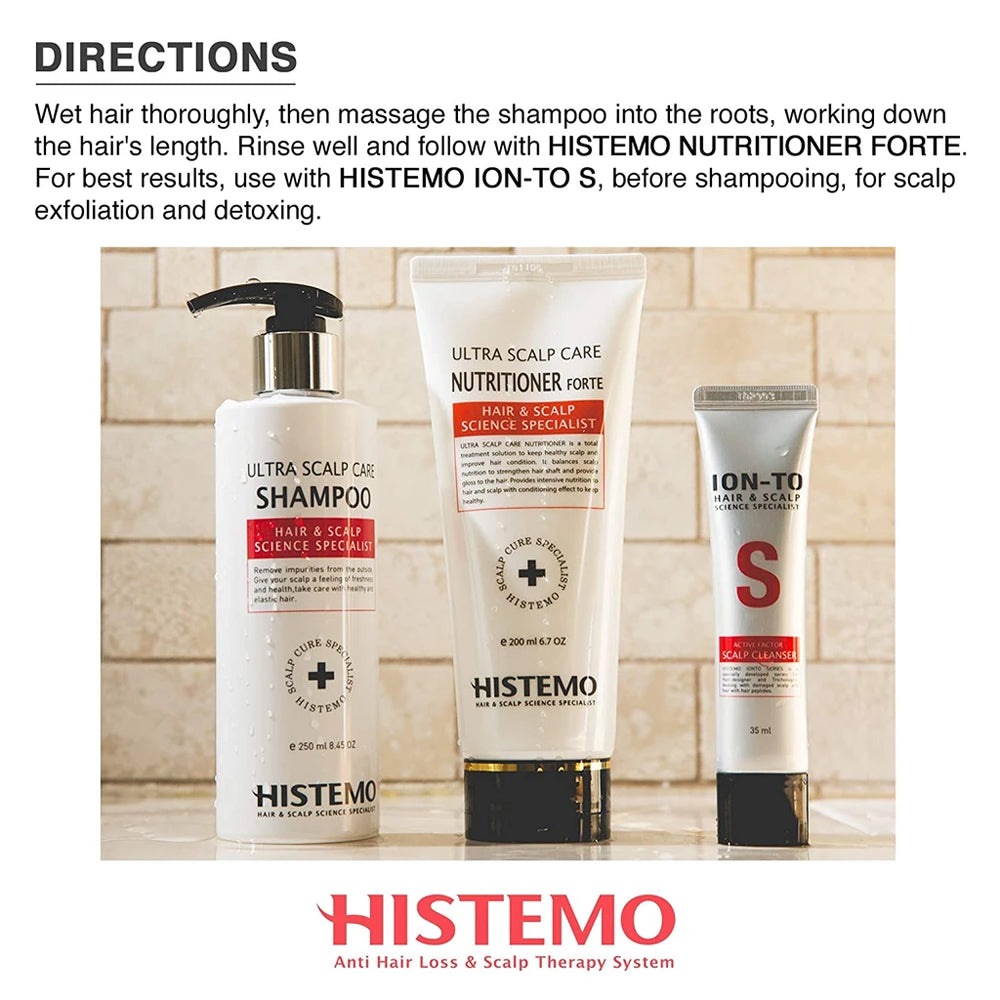 Histemo Ultra Scalp Care Shampoo
The best hair loss shampoo for women will probably not be found at your local drug store. A quality hair growth shampoo for women will be anti-androgenetic, meaning that it will work on inhibiting the two hormones known to cause hair loss. They are dihydrotestosterone (DHT) and testosterone. Such a shampoo will target the growth of hair right at the follicle and interrupt the hormone's cycle so as to stop thinning.

Histemo offers the best hair growth shampoo for women that is known as a prevent hair loss shampoo. In addition, you will find that our hair growth shampoo also acts as a medicated shampoo for itchy scalp to stop one from scratching, which can also lead to hair loss. The best anti dandruff shampoo for men and women is our ultra-scalp care shampoo with biotin and DHT blocker that is ideal for people with colored hair and oily scalp as well.
✅ BETTER TOGETHER: Hair loss prevention is a science, we've done the research and we've got results; Using the Histemo line of products Together is Much More Effective than only using one; Check out our bundles to see our recommended combinations for the best over all treatment to promote hair growth and prevent hair loss
✅ STRONGER, THICKER HAIR: Boost hair follicle health with BIOTIN, which provides an abundance of nutrition to the scalp, enhances stronger and thicker hair growth; Stop hair thinning and shedding
✅ BEST SHAMPOO FOR OILY HAIR & SCALP: At Histemo, our mission is to make the most effective product for hair loss prevention and scalp care with 12 different plant-based growth factor ingredients and combine them with a data-driven scientific formula; Histemo Ultra Scalp Care Shampoo is the #1 product in Korea for oily hair & scalp that will genuinely deliver results
✅ ELIMINATE AND PREVENT DANDRUFF: NIACIN, AKA Vitamin B3, helps prevent dry hair and dandruff development by locking in moisture; More specifically, niacin has been shown in clinical studies to target DNA repair, which could include potential DNA damage concerning your scalp and hair
✅ SCALP SOOTHING THERAPY: Ultra Scalp Care Shampoo by HISTEMO contains Betaine which is a fatty acid derived from coconuts; With Betaine, our shampoo improves shine by maintaining the integrity of the cuticle surface; It also optimizes moisture in the follicles, impacting the health of the scalp and contributing to healthier hair.
Ingredients :
Water, Cocamide DEA, Copper Tripeptide-1, Propylene Glycol, Cocamidopropyl Betaine, Polygonum Multiflorum Root Extract, Acorus Calamus Root Extract, Panthenol, Polyquaternium-10, Zinc Pyrithione, Laureth-3, Citric Acid, Biotin, Ethylhexylglycerin, 1,2- Hexanediol, Butylene Glycol, Calcium Pantothenate, Folic Acid, Inositol, Niacinamide, Pyridoxine HCI, Riboflavin, Thiamine HCI, Cyanocobalamin, Tocopherol, Glutathione, Ammonium Lauryl Sulfate, Oligopeptide-1, Histi- dine, Lysine, Arginine, Cystine, Glutamic Acid, Glycine, Calcium Chloride, Ammonium Laureth Sulfate, Potassium Iodide, Ferric Chloride, Zinc Chloride, Polyg- lyceryl-10 Laurate, Guar Hydroxypropyltrimonium Chloride, Sod- iumPolynaphthalenesulfonate, Ammonium Sulfate, Sodium Ben- zoate, Dimethicone, Disodium EDTA, Phenoxyethanol, Fragrance.

Size:
250ml

Directions:
Apply onto dampened hair to foam and massage on hair and scalp rinse thoroughly with tepid water. Repeated use once, the effect is better.

Precautions

If cosmetic causes irritation or side effect for red rash, swollenness, itching by exposure to sunlight during the use, you're advised to consult a pharmacist or a doctor.

It is advised not to use it on the skin area where you have a wound and scar.

Precautions for handling and storage a) Keep out of reach of children b) Keep out of direct sunlight.

If get into the eyes, you should be bathed with water immediately b) it may cause hair loss or discoloration unless rinse it off with tepid water.